States are sewing a patchwork of AV regulations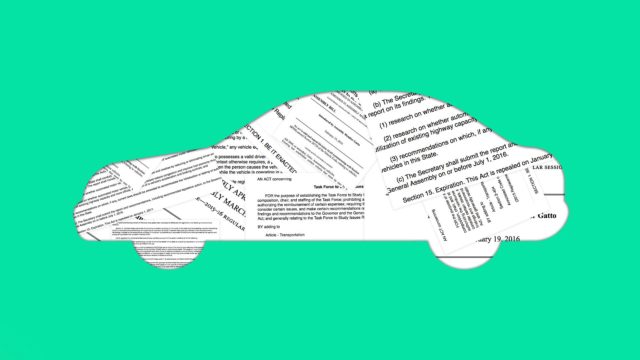 Illustration: Rebecca Zisser/Axios
By Kaveh Waddell and Kia Kokalitcheva , Axios Autonomous Vehicles
Drive.ai — a startup developing an on-demand autonomous shuttle service — is based in Silicon Valley, but it has deployed its first vans in Texas, drawn in by the state's favorable regulations.
Why it matters: Without a national regulatory framework for autonomous vehicles, states have become laboratories not just for the technology itself, but also for the rules emerging to shape it.
The big picture: Federal legislation that would create national parameters for testing and deploying AVs passed the House but is stalled in the Senate, leaving states to create their own rules for now. Automakers worry that, without federal standards, they'll have to deal with a patchwork of state laws that would hamper a broader roll-out of the technology.
That leaves companies shopping for testbeds among the states. Their efforts will decide which Americans get to hitch a ride in an autonomous car first — and which cities will reap the potential economic benefits of self-driving vehicles, along with any problems.
For Drive.ai, Texas strikes a Goldilocks medium between highly regulated states like California and those with lax rules, like Arizona, said the company's CEO, Sameep Tandon.
In Texas, a state Senate bill passed last year laid out clear rules and preempted local laws. That avoided "onerous requirements" on companies, said Christopher Poe, assistant director for automated vehicle strategy at the Texas A&M Transportation Institute.
To make it easier for cities to contract self-driving car companies, the state is lining up agreements with three of them — including Drive.ai — so that local governments can pick one without having to go through a cumbersome procurement process.
The statewide rules and processes mean companies that expand into Texas will have access to a bunch of sprawling, populous cities, many of which are actively pursuing driverless car testing or deployments.
Drive.ai's self-driving vans are already puttering around an office park in Frisco, a Dallas suburb, and the company will launch a second program in nearby Arlington to shuttle fans to Dallas Cowboys games.
Poe says there are plans to deploy similar services in Austin, Houston, San Antonio, and Corpus Christi.
The state of the states beyond Texas:
Currently, 29 states have passed some kind of regulation for self-driving cars, some more extensive than others.
In California, regulations include specific testing rules and requirements that companies submit reports of certain metrics.
In other states, like Arizona, Texas, and Florida, the regulations are much lighter and less explicit, enabling companies to more freely test and deploy ride services for passengers.
Where the companies are testing:
Waymo, Uber and GM Cruise are testing in states like California and Pennsylvania where they're located and can experience urban environments. Others are operating in Arizona and Florida, where lighter regulations make it easier to test and deploy ride services.
Testing is also determined by weather, not just regulations, the National Conference of State Legislature's Douglas Shinkle points out. So far, much of it takes place in warmer, sunnier climates like California, Nevada, Texas and Florida where conditions are easier for today's AVs to navigate.
As companies get closer to deploying self-driving cars that are available to the public, state rules around consumer transportation will be even more important.
"Commercial deployment is the next big battleground in AV regulations," says Greg Rogers, a director at Securing America's Future Energy.
The other side: Some experts argue that self-driving safety regulation should really be done at the federal level.
"You should be able to buy a car in California and drive it to New York," Rogers says, adding that the National Highway Traffic Safety Administration is best equipped to do this.

This article originally published at Axios Autonomous Vehicles on Sep 28, 2018.
---
No Comments