SoftBank Prepares Humanoid Robot Pepper's U.S. Debut
SoftBank is bringing its "Pepper" humanoid robot to the U.S. and introducing a new SDK for Android Mobile. If you haven't seen what Pepper is capable of, I recommend having a look; it is quite impressive. It will be interesting to see if the addition of the new Android SDK can attract more developers from the current pool of Android mobile dev's.
This article also brought to mind several Hollywood movies – especially, the Terminator series, and how we are fascinated with the idea of robots eventually "taking over", and the incredible irony in how we presently want to build a perfect robot. This is the base of many a movie plot as well, and it seems we are getting quite close to some of those Hollywood special effects. How soon will we be approaching some of those movies' scenarios as well? The article follows… — Jeff
Pepper is finally coming to America. Japanese telecommunications giant SoftBank said today that its chatty humanoid robot, unveiled with great fanfare by the company's founder and CEO Masayoshi Son two years ago, is expected to debut in the North American market later this year. SoftBank also announced that a new developer portal is now available to anyone interested in creating applications for the robot. And tomorrow at Google I/O, SoftBank engineers will take the stage, along with Pepper, to introduce a tool that they hope will entice more developers to build apps for the robot: an SDK for the Android mobile operating system.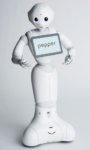 We're so excited to see what the development community can bring on to our platform," Steve Carlin, vice president of marketing and business development for SoftBank Robotics America, told IEEE Spectrum, adding that "ultimately what is going to really power Pepper is the creativity of this community." He said the company doesn't have an official launch date or pricing details but wanted to start building momentum for Pepper's arrival.
Carlin, who was Facebook's global head of strategy for gaming before joining SoftBank, explained that businesses, not home users, will be the initial focus in the U.S. market. Today, a number of big retailers in Japan and Europe are using Pepper as a robotic helper to assist customers. These companies include SoftBank's own mobile subsidiary, which has dozens of robots at its Tokyo stores, as well as businesses such as Nestlé, Nissan, and Carrefour. In Japan, Pepper is also available to individuals who want to use it at home. SoftBank said it has sold more than 7,000 units to consumers and companies.
The new developer portal will offer technical documentation on Pepper, which is capable of talking, gesticulating, and moving on wheels. The robot also has an "emotion engine" that allows it to interact with people in a more engaging way. Also available on the portal will be forums for developers to post and answer questions and a variety of tools for download, including SDKs, and a graphical development system called Choregraphe. Read full article…
No Comments