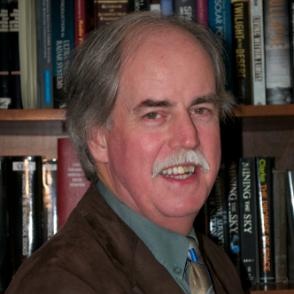 Dennis Wingo
Mobile: 310.403.1346

Power systems engineering, digital systems design, EE systems architecture, lunar power systems development, solar electric propulsion, satellite and spacecraft design, advanced mission planning, lunar surface operational scenario development.

2378A Walsh Ave
Santa Clara, CA 95051
Dennis Wingo is CEO and Founder of Skycorp, Inc. and Greentrail Energy, Inc., and Co-Founder and CTO of Orbital Recovery, Inc. His key areas of expertise are solar electric propulsion, satellite and spacecraft design, advanced mission planning, and lunar surface operational scenario development.
Dennis has 45 years of experience in electrical engineering, and electronic and digital systems design. He has worked in the areas of computer design, artificial intelligence and document management starting in the 1980s, including Vector Graphic Inc. (microcomputers), Symbolics (Artificial Intelligence), Ibis (early advanced disk drives), and Alpharel (large engineering servers). He has also worked in Aerospace as a design lead for Space Shuttle and Space station experiments, and has led teams in the design of spacecraft power systems and space servers, along with multiple space projects as a Principal Investigator.
Dennis has over 40 papers published by IEEE, AIAA, SPIE, ASME, and other professional organizations. His patents on space logistics systems include one which is licensed to Orbital ATK:
These patents include multiple foreign PCT counterparts.
Dennis is also a Subject Matter Expert for NASA and the Department of Defense in the areas of:
Spacecraft Systems
Spacecraft Power
Lunar Resource Development
Lunar Power Systems Development
Space Policy
He is author of the book Moon Rush: Improving Life on Earth with the Moon's Resources, as well as of dozens of scientific articles as detailed in his blog. Dennis has also been featured on many documentaries and programs, and in news articles on advanced space activities, as well  as having contributed to multiple books in the commercial space and government realms. He has been a Keynote Speaker at the Apple Worldwide Developers Conference, and has given Google TechTalks.
Dennis led the development, construction and testing of microgravity payloads for sounding rockets and the Space Shuttle at the University of Alabama in Huntsville, including the first Macintosh flown on the Space Shuttle – as well as SEDSAT-1, the first non-NASA spacecraft built in Alabama.  He also led the design and development of the world's first commercial satellite servicing system at Orbital Recovery, as well as the Lunar Orbiter Image Recovery Project (LOIRP) that restored and digitized the images of NASA's Lunar Orbiter Program.  He was the first person in history to rescue and operate a spacecraft (ISEE-3) in interplanetary space.
Dennis has given two talks for IEEE-CNSV: Lunar Industrialization: The First Step to the Solar System and The Future of Space Exploration.