5G Glimpse Shows Glitz and Warts
Cellular race to market is really a marathon
By Rick Merritt Dec. 5, 2018
WAILEA, Hawaii — For a few hours on Tuesday, 5G cellular was live — warts and all — in two ballrooms of a resort hotel here. Ericsson set up the network at a Qualcomm event to give press and analysts a first look at what its new chipsets will enable.
Samsung showed an early version of its first 5G smartphone streaming 4K video to a large-screen TV. Motorola demoed a 5G upgrade module that attached to its LTE smartphone to download a gigabyte movie in 17 seconds.
Inseego showed a mobile 5G hotspot that it will launch at CES for Verizon's network. And AT&T demoed a prototype for a cool augmented-reality app requiring fast nets to download hundreds of Mbytes of content to a handset.
So far, it's a mixed bag of blessings and curses. For example, the demos were cool, but there were few of them.
Tests of millimeter-wave services are going better than expected, said carriers. In addition, handset makers have an unnamed alternative supplier of mmWave RF front ends beyond the module that Qualcomm announced in July.
Plenty of 5G handsets are in the works, but most won't be available until sometime next year. The lack of support for frequency duplex division in the current 5G modems is delaying deployment in sub-6-GHz bands until late 2019 for AT&T and possibly other carriers.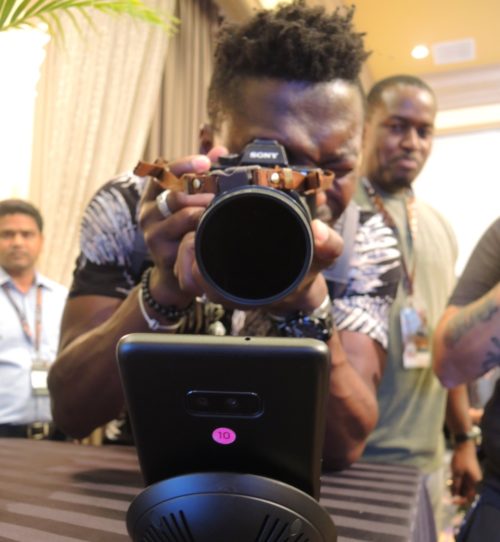 A working prototype of Samsung's first 5G smartphone was the star of the press and analyst event. (Images: EE Times)
Data rates for the first batch of handsets will likely be limited to a few hundred Mbits/s as carriers work toward Gbit and, ultimately, multi-Gbit goals. Meanwhile, vendors are working on consumer-friendly metrics to help users set their expectations.
Many vendors are racing to market in the next few months. But 5G will be more of a marathon than a sprint with the full build-out and payoff years away.
All three carriers in South Korea officially launched services over the weekend, dubbing Dec. 1 as "5G Day." AT&T is next, having promised a 2018 rollout based on a first cut of the 3GPP's standard released in June.
In the past, carriers had about 18 months to gear up services after a cellular standard was frozen. This time around, vendors lobbied 3GPP to create a quick-to-market version of the spec that they could drive into networks quickly.
AT&T's self-declared deadline of six months from a final draft spec to a live network created a unique challenge.
"I told [management] that I want every day that's left in the year," said Gordon Mansfield, an AT&T vice president who helped set and oversee the carrier's 5G plans. "The equipment is literally coming off of production lines and going into the field — we are not even using normal shipping channels."
Read full article…, including "Millimeter waves over-perform, but data rates lag" and "Plenty of handsets are in the pipeline for 2019"
This article first appeared at EE Times / DesignLines on Dec 5, 2018.


No Comments