USB Type C speed test: Here's how slow your laptop's port could be
It's the controller inside that counts, and you'd be surprised at how some are implemented.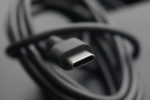 USB Type C is the intriguing new port that began appearing in laptops, tablets, phones, and other devices well over a year ago, but we had no real way test its throughput performance until now. Thanks to Sandisk's Extreme 900, we're finally able to push that tiny reversible port to its limits. To do that I gathered up no fewer than eight laptops equipped with USB Type C ports, and threw in a desktop PCIe card for good measure too.
What your USB-C port isn't telling you
USB Type C is supposed to be a universal standard, but it's just universally confusing. A USB Type C port can run at either 5Gbps or 10Gbps and still be labeled USB 3.1 by the laptop maker. USB Type C even technically supports USB 2.0 speeds at a pathetic 480Mbps. So when you see a USB Type C port, the only assumption you can make is that its transfer speeds can vary from as low as 480Mbps to as high as 10Gbps.
To muddy things even further, Intel's Thunderbolt 3 technology uses the same USB Type C port for transfers over PCIe. It'll also support USB 3.1's 10Gbps.   Read more…
No Comments