Speakers at AICS Go In Depth on Green AI Computing
By EE Times Staff
April 18, 2023
The theme of the 5th IBM IEEE AI Compute Symposium (AICS), held at an IBM research center last fall in New York, was "scalability to sustainability." Symposium presenters from industry and academia covered a range of topics, including device technology, circuits, architecture, algorithms and sustainability to make innovations for the cloud, with an emphasis on green artificial intelligence.
Tamar Eilam, an IBM fellow, gave a talk titled "The Road to Sustainable Computing." She told participants about IBM's initiative on sustainable and responsible computing and described how to design a sustainable data center. Key steps include finding pathways to achieve multi-DC sustainability goals by incorporating exogenous factors, natural resources, cooling, water, energy for IT and other constraints within a holistic DC model.
Eilam also emphasized the importance of explainable AI and contra-factual analysis with a focus on capital and operational cost with environmental impacts. Such impacts include capitalized carbon-footprint emissions, the operational carbon footprint and operational water use. Eilam pointed out the need for using renewable energy, such as solar, wind and wave energy.
"The key lies in utilizing sustainable computing by predicting the power consumption, co-optimization of software/system-based behavior and coupling renewable energy," she said.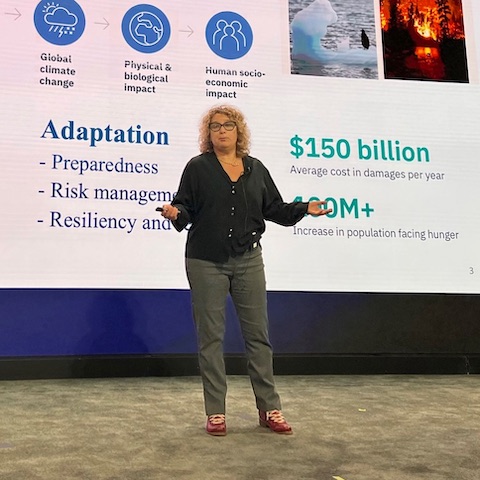 Tamar Eilam, IBM fellow, spoke about the importance of sustainable computing. (Source: Organizers of IEEE CAS/EDS Symposium at IBM)
Eilam also participated in a panel discussion on sustainability with Robert Muchsel, Analog Devices Inc. (ADI) fellow; Christopher Hill of the Massachusetts Institute of Technology; Prashant Shenoiy of the University of Massachusetts; and Aaron Thean, dean of the College of Design and Engineering at the National University of Singapore (NUS). The discussion focused on sustainability at all levels, including algorithmic and architecture techniques, data center carbon-footprint reduction, product development and applications in which AI can help.
This article first appeared at EE|Times DesignLines on April 18 2023
No Comments