A smarter steering wheel technology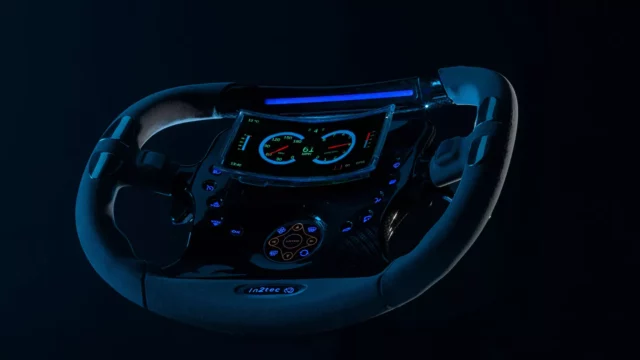 For drivers, how they grip and move their hands on the steering wheel can be used to interpret situations and the health of the driver – have they fallen asleep or are they suffering from some form of medical condition – can also be determined.
In2tec, a UK technology solutions provider and a specialist in sustainable electronics and smart human machine interfaces (HMI), has unveiled what it describes as a game-changing steering wheel technology demonstrator for designers and engineers in the automotive space.
According to In2tec, its steering wheel demonstrator showcases the opportunities provided to HMI applications via the incorporation of the company's flexi-hybrid technologies.
Building on the latest in sustainable flexi-hybrid technology and underpinned with highly recyclable electronic assemblies, the low-profile steering wheel utilises advanced and patented flexible electronics that address function, aesthetic, and packaging constraints, in order to showcase ground-breaking possibilities in vehicle control systems.
According to Neil Armstrong, Group Managing Director, In2tec, "Using the latest in Smart HMI, touch technologies, and 3D conformable circuit boards, we have developed a flexible electronics solution that, we believe, will transform the future of automotive manufacture and design.
"The In2tec technology demonstrator enables us to share what this next-level system capability can offer OEM and Tier 1 suppliers. Crucially, it also encompasses highly recyclable electronic assemblies thanks to our flexi-hybrid technology and low carbon footprint recycling processes."
The design elevates existing capabilities like capsense with the integration of Hands-Off-Detection (HOD)/ Hands-On-Detection functionality and dynamic monitoring of the heart rate, which futureproofs the wheel's capabilities in line with existing and next-generation safety and legislation requirements.
In2tec's flexi-hybrid technologies allow the integration of interface solutions like proximity detection and haptic technologies within ergonomic designs that will help to transform driver experience, feedback, and comfort.
Utilising an ultra-thin complex curve construction built around flexible electronic circuit assemblies, the wheel shape includes a level of concave and convex surfacing not realisable with rigid or semi-rigid printed circuit technologies, such as those implemented using current standard technologies.
Moreover, In2tec's application of flexible electronic assemblies allows a more free-form approach to the shape of the whole wheel.
As a consequence, the complex 3D shapes allow for sensors, and the user input interface to seamlessly fit within the complex and limited space within the steering wheel assembly.
This means every area of real estate can be utilised, while significantly reducing both profile and weight.
This article first published on Aug 16, 2022, at newelectronics.co.uk
---
No Comments