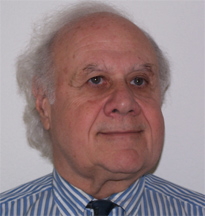 Richard W. Ahrons, Ph.D.
DACON Associates
CNSV Emeritus Member
IEEE Life Senior Member
IEEE-CNSV Co-Founder
Semiconductors, Forecasting, IC-ASIC Sourcing, wafer processing, Patent Analysis. Expert Witness.

983 Garrity Way
Santa Clara, CA 95054-4129
Dr. Ahrons is president of DACON Associates. He has over 40 years of semiconductor engineering and marketing experience at firms including Motorola, National Semiconductor, RCA, S-MOS Systems (Seiko), Burroughs (Unisys) and Opcoa, a semiconductor startup that he founded. He has been involved in advanced technology, development, operations, applications, process, packaging, marketing and business planning across many different product lines.
His semiconductor consulting experience includes new product and competitive analysis, support of patent litigation, product launch, promotion, business issues, sourcing, IC wafer and package foundry coordination, project management, and startup support.
His experience in technical support of patent litigation includes working with over 15 law firms.
Areas of Expertise:
Intellectual Property Research
Patent Analysis and Evaluation
Prior Art Search
Expert Witness
Litigation Damage Analysis
ITC Action Support
Semiconductor Memory
Microcontroller Technology
Microprocessor Technology
Embedded Processors
RISC Processors
Digital Circuits
Analog Circuits
ASIC
IP Macros
Megacells
DRAM, SRAM. Flash, EEPROM
IC Packaging
Semiconductor Process
Plasma Etch and CVD
Dr. Ahrons holds 19 patents and has publishsd over 25 papers. He received awards in the field and has been active in various IEEE organizations and committees. He is a past Chair of CNSV. Dr. Ahrons has a BSEE and MSEE from MIT and a Ph.D. in communications and computers from New York Polytechnic Institute.
Dick has been active in IEEE for many years, including:
IEEE-CNSV Chair: 2005
IEEE-CNSV Treasurer: 1999-2002
IEEE-CNSV Director: 2006-2009
IEEE-SCV (Santa Clara Valley) Section Executive Committee