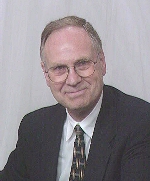 Bob Strain, Ph.D.
Bus. Phone: 408 823 9650
Mobile:
CNSV Member
IEEE Life Senior Member
Device physics, IC design, patent & trade secret litigation, CCD, wafer fab and foundry, memory.
800 Blossom Hill Rd. Unit E222
Los Gatos, CA 95032-3566
USA
Integrated circuits, from basic technology through applications:
Adviser to National Semiconductor in support of their Wafer Foundry activities
Nif/T New Business Architects on two specific projects, one an IP based start-up
Trade secret and patent actions, including a Santa Clara-based IC manufacturer and the suits prompted by the theft of processing information in Asia.
Past experience includes:
actively participating in the early development of Charge Coupled Devices (CCDs)
involvement in memory products, including product development, product management and business analysis
project management for a state-of-the-art wafer fab in Nagasaki, Japan
co-authoring a ten-year outlook for key IC markets
technical liaison with several active foundries, ranging from linear bipolar technologies to advanced CMOS and FLASH technologies
management of CMOS process development
inventing or co-inventing 32 US patents