Storage Developer Conference
Monday, Sep 11, 2017 – Thursday, Sep 14, 2017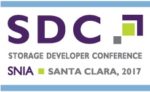 ---
Reasons to Attend
Staying current with the latest technology can amount to a lot of dollars and time. Attending SDC is a cost-effective way to acquire training in a host of different areas through tutorials, sessions, Keynote speakers, and the opportunity to participate in the co-located plugfests. Take advantage of this opportunity to learn from the experts all in one place.
Who Should Attend?
Storage software and hardware developers, storage product and solution architects, storage software engineers, product managers, storage product quality assurance engineers, product line CTOs, storage product customer support engineers, and in–house IT development staff.
Most Relevent and Up-to-Date Content
SDC's Agenda is developed under the supervision of the SNIA Technical Council and we've made sure that the material being presented reflects the newest developments, best practices, products, and services.
Uninterrupted Focus
We're offering 5 highly focused tracks every day along with outstanding keynote and featured presentations, allowing you to take advantage of uninterrupted learning. Plus, you will be surrounded by like-minded professionals who will also share their experiences and questions.
Attendee Feedback from recent SDC events
"Whether you are a storage developer or want to keep abreast of the latest trends, this is the conference of the year!"
"This is the best storage developer conference I've attended… I liked the breadth across relevant aspects of the industry and the blend appears to be balanced as well… Very well organized and great content… Lively hallway discussions."
"Excellent innovation and collaboration. A must attend for storage technologists."
"Overall it was a an excellent, well organized conference with a lot of interesting topics."
"Very informative, excellent opportunity for networking"
"Excellent Agenda! Good keynotes and tracks"
"The event was well organized, excellent content, very worthwhile."
"SDC provided answers to my engineering roadmap plans and I was exposed to the latest tips and techniques to accelerate my product development."
The SNIA looks forward to welcoming you to SDC 2017! More Info…
---
Location: Santa Clara Hyatt
5101 Great America Parkway, Santa Clara, CA 95054
View Map & Directions