Game Design: The Dark Art of Human Motivation

---
As computing grows in its ubiquity in human experience, issues of Human-Computer Interaction (HCI) and User Experience are correspondingly more conspicuous. The video game industry has had HCI at its absolute core for more than 30 years.
As computer gaming has become mainstream and matured in its forms and methods, theoreticians have begun to articulate an understanding of the particular characteristics of games. These characteristics hold the unique position of engaging users in completely self-contained environments of HCI, and can evoke a range of emotions as wide as any other expressive medium.
Is game design a form of engineering? Is it art? Is it a methodology? It's all those things, combined into a brew that is as mysterious to outsiders as it is powerful to its consumers. This talk will show how computer game design holds a large number of lessons and keys of which designers and engineers should be aware as computers embed themselves further into everyday life.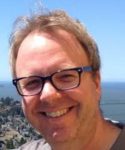 About the speaker,  Michael "MJ" John
of
UC Santa Cruz: Silicon Valley Campus
Michael "MJ" John is the Program Director at the Games and Playable Media Masters Degree Program at the UC Santa Cruz Silicon Valley Campus. He is responsible for the overall curriculum, and for the teaching of masters level students in game design and development.
Michael was previously Game Director at GlassLab – a groundbreaking collaboration between forces in game development and learning – where he managed both game and technology development. He is a 20+ year veteran of the commercial games industry, having worked with companies such as Universal Studios, Sony Computer Entertainment, 2K Games and Electronic Arts. His commercial oeuvre includes the original Spyro the Dragon trilogy, the PSP Classic Daxter, and work on the God of War series.
Michael has been an adjunct professor in game design for USC's School of Cinematic Arts and is a frequent speaker on the creative process, product development, and innovation, as well as advancing the field of games and learning.
---
Location: NVIDIA Corp., Santa Clara
2800 Scott Blvd., Santa Clara, CA 95050
View Map & Directions