Debugging the Gender Gap: Changing the Face of Technology
Tuesday, Oct 28, 2014 - 7:00 pm to 9:00 pm PDT
---
Note new location on Stanford Campus! The Stauffer Auditorium is located on the courtyard level of the Hoover Memorial Bldg., which is next to Hoover Tower. Free parking is shown by the green "P" boxes east of the Hoover bldgs. on Galvez St. and Serra St. in this map.
Sign up here for this event, which is an IEEE SCV Women in Engineering (WIE) event for which IEEE-CNSV is a co-sponsor.
Event starts: 6pm; Panel Discussion: 6:45-8:15pm.
The dearth of female and minority computer science engineers is a timely and relevant topic. Understanding the dynamics at work here is a big part of being able to rectify the gender, ethnicity and economic disparities.
This special program will introduce CODE, a documentary film about debugging the gender gap and bridging the digital divide. It will also address the questions:
Why does the gender gap and digital divide in tech continue to grow?
What will society gain from having a more diverse group programming the products upon which we so heavily depend?
CODE director Robin Hauser Reynolds, author Vivek Wadhwa and Angel Investor/Ex-Facebook Engineering Director Jocelyn Goldfein will engage in an interactive discussion, and we hope that you will engage them as well.
The Indiegogo campaign for the eye-opening CODE documentary film surpassed its funding goal. However, you may still make a tax-deductible donation to help insure the completion of this documentary film.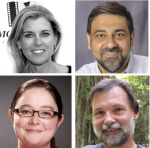 About the speaker, 
About the Speakers
Filmmaker Robin Hauser Reynolds of Finish Line Features, LLC brings a longstanding history of creativity and photographic production to her innovation as Director/Producer of CODE: Debugging the Gender Gap, her second documentary film. Her first documentary, award-winning Running for Jim, follows high school running coach Jim Tracy and the impact of his battle with ALS on his championship teams.
Vivek Wadhwa is a Fellow at Arthur & Toni Rembe Rock Center for Corporate Governance, Stanford University; Director of Research at the Center for Entrepreneurship and Research Commercialization at the Pratt School of Engineering, Duke University; and Distinguished Fellow at Singularity University. He is author of "The Immigrant Exodus: Why America Is Losing the Global Race to Capture Entrepreneurial Talent"—which was named by The Economist as a Book of the Year of 2012, and Innovating Women: The Changing Face of Technology – which documents the struggles and triumphs of women. He was named by Foreign Policy Magazine as Top 100 Global Thinker in 2012. In 2013, TIME Magazine listed him as one of The 40 Most Influential Minds in Tech.
Ex-Facebook Engineering Director Jocelyn Goldfein is a freelance angel investor, startup advisor, and industry spokesperson. At Facebook, she led new product development for News Feed and Photos before taking point on executing Facebook's pivot to native mobile app development. Before Facebook, she was an early VMware engineer who helped drive its hypergrowth into an industry titan, as well as being a co-founder of another startup. Jocelyn studied Computer Science at Stanford University.
IEEE-CNSV Director and IEEE Women in Engineering volunteer Brian Bergwill moderate this discussion. Brian is an independent consultant specializing in storage systems, particularly flash memory. He is on the advisory boards of six conferences, including the WIE International Leadership Conference (ILC) and Flash Memory Summit. Brian is also Region 6IEEE Milestone Coordinator and past Chair of the Santa Clara Valley Section.
---
Location: Stanford Univ. - Stauffer Auditorium, Herbert Hoover Memorial Bldg.
Galvez St. and Serra St. Stanford University, CA
View Map & Directions
---
Slides will not be available for the Main Presentation.
Main Presentation recording will not be available.