Conference: Storage Visions 2018
Monday, Oct 22, 2018 – Tuesday, Oct 23, 2018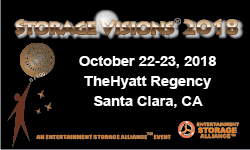 The exhibition area is free, with pre-registration. Get $100 conference discount by using link shown below.
---
IEEE-CNSV is an Organizational Sponsor of Storage Visions 2018, which this year has moved from Las Vegas to Silicon Valley.
The theme of this 17th annual Storage Visions Conference is "Thriving in the Data Apocalypse." The next decade will see a growing avalanche of data generation. IDC estimates that by 2025 we will generate more than 163 zettabytes of storage each year due to the growth of big data, the IoT and the growing amount and size of digital content. Furthermore, new safeguards on privacy will create new restrictions on the use of data. That's a lot of data and a lot more data management, and it will overwhelm our current capability to store and use this content. The 2018 Storage Visions Conference will show you how you can thrive in the coming Data Apocalypse, even while others are struggling to survive.
---
Hyatt Regency, Santa Clara
5101 Great America Parkway, Santa Clara, CA 95054
View Map & Directions
The hotel adjoins the Santa Clara Convention Center, and there is free parking.
Registration is 
here
: select the free exhibits-only registration (through Oct. 20), or click the Apply button to get the IEEE-CNSV $100 registration discount toward the full conference fee.