Conference: Ethernet Technology Summit 2011
Wednesday, Feb 23, 2011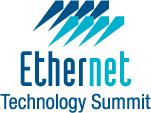 ---
The Ethernet Technology Summit is a 2-day conference on Wednesday and Thursday, Feb. 23-24, with pre-conference tutorials on Tuesday, Feb. 22.
Registration for free admission to the Exhibit Floor and some sessions is available at ETS Registration. CNSV members can save $100 by registering for the full conference and using Priority Code IEEE.
CNSV will have a booth in the Exhibition Area. If you wish to be in the booth during part of the conference to promote your consultancy as well as CNSV, contact Brian A. Berg.
---
Location: Ethernet Technology Summit
Santa Clara Marriott, 2700 Mission College Blvd., Santa Clara, CA 95054
View Map & Directions