Conference: Ethernet Technology Summit 2012
Tuesday, Feb 21, 2012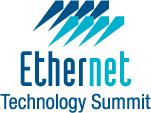 ---
IEEE-CNSV is an organizational sponsor of the Ethernet Technology Summit, a 3-day technology conference.
ETS focuses on the latest advances in Ethernet technology, particularly in 40/100 GbE, convergence, cloud computing and virtualization. It features the latest information on these advances from the experts who developed the specifications and who are designing the current products for them.
Registration for free admission to the Exhibit Floor and some sessions is available at ETS Registration. CNSV members can save $100 by registering for the full conference and using Priority Code IEEE.
---
Location: Ethernet Technology Summit
DoubleTree Hilton Hotel, 2050 Gateway Place, San Jose, CA 95110
View Map & Directions