Conference: Ethernet Technology Summit 2013
Tuesday, Apr 2, 2013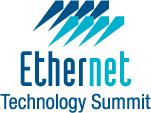 ---
IEEE-CNSV is an organizational sponsor of the Ethernet Technology Summit, a 3-day conference at the Santa Clara Marriott on Tue.-Thu., April 2-4 that focuses on the latest advances in Ethernet technology – particularly in 40/100 GbE, convergence, cloud computing and virtualization.
Included is a free seminar on Software Defined Networking (SDN) and OpenFlow. In addition, the first-ever IEEE Santa Clara Valley Section Unsung Heroes Awards will be given out at this event during a special 40th Anniversary of Ethernet commemoration on Wed., April 3, from 6-6:30pm.
Learn the latest information on these advances from the experts who developed the specifications, and who are designing the current products for them. It is thus an essential event for those who are deciding whether to use the new specifications or to design products for them, or who are in the initial stages of product design.
Registration for free admission to the Exhibit Floor and some sessions is available at ETS Registration. CNSV members can save $100 by registering for the full conference by March 31, and using Priority Code IEEE.
---
Location: Ethernet Technology Summit
Santa Clara Marriott, 2700 Mission College Blvd., Santa Clara, CA 95054
View Map & Directions