U.S. Will Join G-7 AI Pact, Citing Threat From China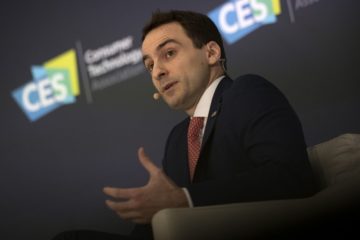 Wednesday, May 27, 2020
The White House sees the effort as a counterbalance to Beijing surveillance
The U.S. plans to join an international organization that will advise companies and governments on the responsible development of artificial intelligence, becoming the last of the Group of Seven countries to sign on.
The group, called the Global Partnership on AI, will study and provide recommendations to encourage the creation of AI technologies that respect privacy and civil liberties, said Michael Kratsios, the chief technology officer of the U.S. He called the partnership "a first of its kind global organization that sees the future of AI as something that can uplift Americans and people around the world."
U.S. officials plan to outline their involvement in the program on Thursday at a G-7 meeting of science and technology ministers. In addition to G-7 members, several more countries outside the group, including New Zealand, are expected to eventually join the program. Kratsios acknowledged that the Trump administration had generally been skeptical of multilateral agreements but said that this one was important as a check on China's approach to AI, which often involves using new technologies to augment an already-robust surveillance state. The Chinese government, Kratsios, said, "has twisted AI in ways that are in direct conflict with the values of the U.S. and its allies."
Tensions between the U.S. and China, heightened throughout Donald Trump's presidency, were further escalated in the last week over a Chinese national security law that tightens Beijing's grip over Hong Kong. Michael Pompeo, the U.S. secretary of state, said Wednesday that the country could no longer certify Hong Kong as politically autonomous, a move that could trigger sanctions.
This article first appeared at Bloomberg.com on May 27, 2020.