Big Auto's Startup Bets: Where They're Investing Across Ride-Hailing, AI, And Mapping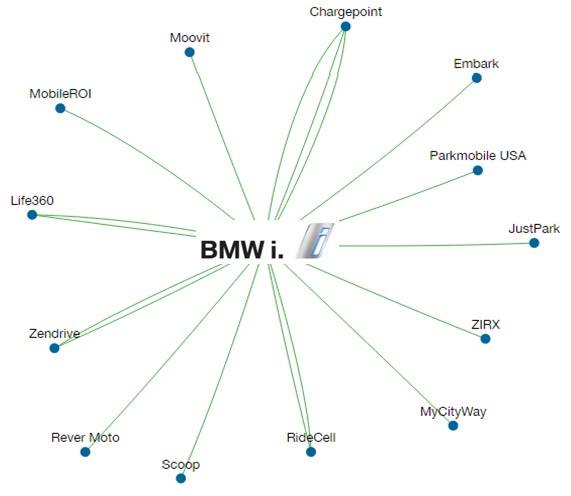 Thursday, Sep 15, 2016
We visualize and analyze the growing number of private market bets made by automakers, including the venture arms of GM, BMW, and Volvo.
Auto tech startups are on pace to secure record levels of deals and funding dollars as investors of all types hunt for opportunities in the space. Meanwhile, automakers are increasingly partnering with tech corporations and startups for auto tech innovation, as more contenders flood the automotive space.
With simultaneous pressure from the rise of electric vehicles, automation, and alternative mobility solutions like ride-hailing, automotive manufacturers are responding with investments and acquisitions across these fields.
We used the CB Insights Business Social Graph to visualize the moves of a dozen automakers active in private markets since 2011:
General Motors/GM Ventures
BMW Group/BMW i Ventures
Audi/Audi Electronics Venture
Volvo Group Venture Capital
Daimler (incl. moovel)
Volkswagen
Porsche
Ford
Toyota
PSA Groupe
SAIC Capital
BAIC Motor
GM, BMW, Volvo, SAIC, and Audi all have distinct venture arms, while the other corporates are investing directly (CVCs are broken out from their parents in this graphic). The massive Volkswagen Group has had several of its subsidiary brands making distinct investments, including Porsche and Audi. Daimler's activity includes that of their mobility subsidiary, moovel.
Click on the image below to enlarge. Green lines indicate investments and red lines signify acquisitions.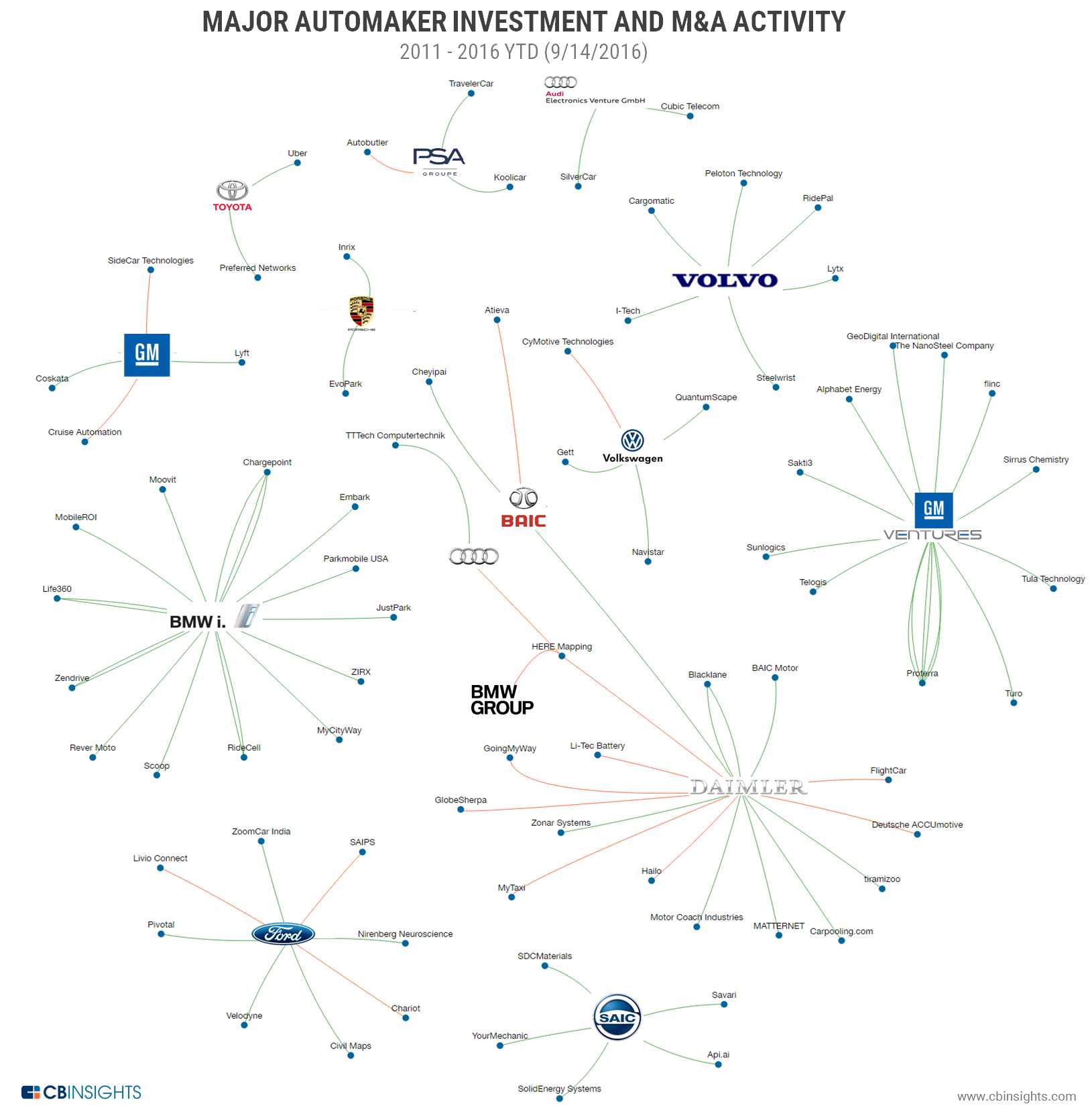 We pulled out some further insights from the CB Insights database:
GM has been the most active, investing in or purchasing more than 15 companies since 2011, either directly through its corporate body or its venture arm, GM Ventures. Early this year, GM was the first major OEM to commit heavily to ride-hailing and automation, investing $500M in a corporate minority round to Lyft, snapping up SideCar's assets, and acquiring Cruise Automation for upwards of $1B.
Automakers attempting to secure footholds in ride-hailing and sharing: Nearly all of these players have made at least one, if not multiple investments to edge into next-generation transportation service networks. Toyota and Volkswagen have taken corporate minority stakes in Uber and Gett, respectively (Volvo has also secured a separate partnership with Uber). However, with the finite number of large contenders in this space, other OEMs have turned to alternative strategies. For example, Daimler is looking to assemble a European contender under its moovel subsidiary, purchasing a majority stake in Hailo this July to augment its investments in Blacklane and the previously-acquired myTaxi.
Ford suddenly active in private markets: Prior to May of this year, Dearborn's most notable move to date had been its 2013 acquisition of automotive app maker Livio. However, in the past four months alone, Ford has disclosed a pair of startup acquisitions including SAIPS (machine learning and computer vision) and Chariot (shuttle transit service). It has also invested in private companies working across cloud software, LiDAR, autonomous mapping, and mobile car rental. Interestingly, Ford has participated in investments across stages, from Civil Maps' $6.6M seed round to Pivotal's $653M Series C, despite lacking a dedicated venture arm.
AI investments on the rise: As the driverless arms race continues to heat up, multiple automakers have begun examining startups in the space. Obviously, OEMs have focused on machine learning and computer vision technologies applicable to autonomous driving (e.g. SAIPS, Preferred Networks, Nirenberg Neuroscience). But passenger-focused disciplines like natural language processing are also seeing interest, such as SAIC Capital's investment in Api.ai.
Auto manufacturers also funding connectivity and mapping technologies: Vehicle-to-everything communication (TTTech, Cubic Telecom, Savari) and mapping (Inrix, Civil Maps) have all drawn attention from these manufacturers, all areas potentially applicable for autonomous vehicles. Separately, a consortium of German manufacturers including BMW, Daimler, and Audi also purchased Nokia's HERE mapping unit for $3.2B.
SAIC Capital has become quite active: Despite being a relative newcomer, the venture capital arm of one of China's largest automakers has wasted no time investing in everything from on-demand mechanic services (YourMechanic) to communications (Savari). It has already invested in at least 5 different companies since July 2015.
GM Ventures and Daimler invested in more industrial fields: GM Ventures has invested in energy storage and recovery (Sakti3, Alphabet Energy), renewable energy (Coskata), and advanced materials companies (Sirrus Chemistry, The Nanosteel Company). Daimler has invested in two energy-related startups (Deutsche ACCUmotive and Li-Tec Battery). These are generally more capital-intensive endeavors, and both companies stand apart from their peers with such commitments to hardware startups (Volvo and SAIC's venture arms have also made a handful of similar investments).